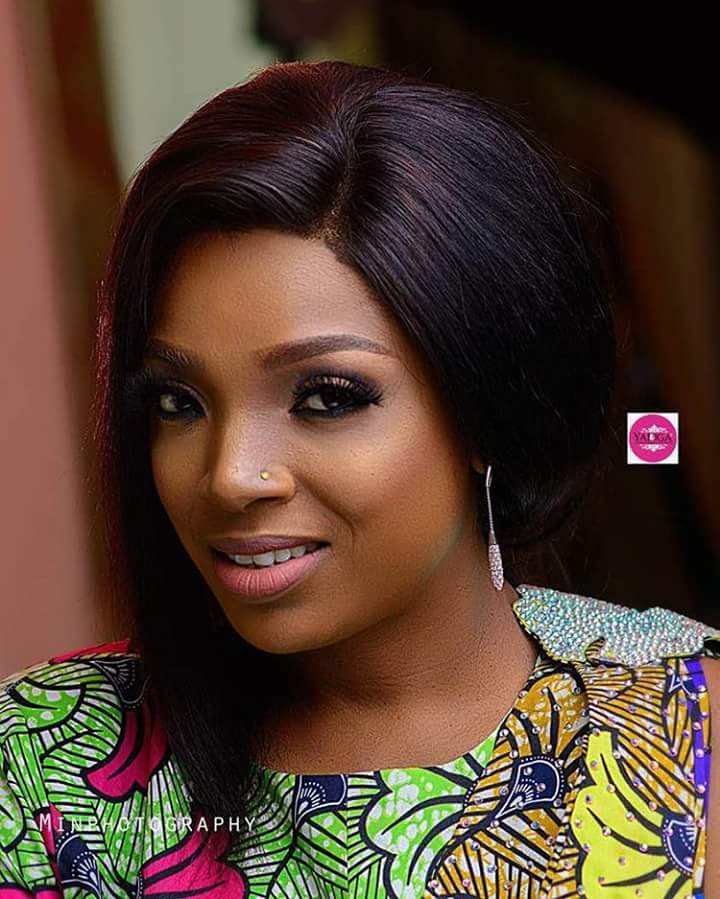 My idea of a strong woman is encompassing. I believe every  woman is strong  in one way or the other even if her circumstances, choices or the situation surrounding her is unappealing to other women. And this is why I love Annie idibia, that woman is so strong.
She embodies a kind of strength that I admire. A lot of people have condemned her choice of getting married to Tu Baba, but she does not give a damn, at least going by the way she is living her life and carrying herself, I really admire her. We have a lot of people that seek to plant negativity and toxicity in other people's lives.  People like this just have this uncanny urge to douse  people's happiness or find a way to hurt people in the face of their celebration. The only way to deal with people like that is to tell them to shove it, stand tall and keep living your life on your own terms.
The other day I was on Instagram, and Annie put up this picture of herself, her two daughters and Tu Baba in the plane, seating at the business class and travelling to Dubai for Annie's birthday celebration. Many people made lovely comments, but some people had to plant their bitterness on that thread. One of those people made a comment that God would bless Annie with a son. I blinked my eyes twice, then I saw Annie's response, she said "Thank you, but we already have a lot of handsome boys and beautiful girls in our family, we are a complete family".
My adrenaline was pumping so fast and I felt like giving her hug! I was alike "o kare omo, wa shere iyawo Tu Baba". Handling negativity and toxicity with so much class depicts  royalty.  As if that was not enough, another person who wanted to also rain on her parade said "but where are Tu Baba's other children though"? Chai "my body enter inside my cloth well well" and I was wondering what kind of humans are these? Oh well, that person was thoroughly lashed by Annie's fans and I was so happy to exit that thread silently.
I digress, so who is a strong woman?
In today's world the term 'strong woman' is often misrepresented,  and strength is being attributed to women who are successful, or women who have a voice to bring about a social change.
However strength in a woman goes beyond being successful or having a voice.
Below are examples of women who are strong in every sense of it;
The woman who carries so much burden in order to dance to the tune and dictate of the society is a strong woman. Come to think of it, these women have desires and wants that they yearn to fulfil,  but they adapted to what the society demanded from them and carried on with their lives without breaking. These women were most of our grandmothers and mothers and some of them still exist among us today despite the social change  being clamored for. They keep bending but never breaking.  They are indeed strong and very great women.
The woman who is struggling to take care of her children alone despite having a husband is a strong woman.
The woman who juggles all sorts of businesses together in order to bring something to the table to support her family is a strong woman.
The woman who juggles her career with her role as a mother and wife struggling to find a balance is a strong woman.
The woman who faces her career without giving a thought to marriage or family, even though she desires to have both is a strong woman.
The woman who gives up her career in order to stay at home and look after her children is a strong woman.
The woman who has a child with any form of disability and is still able to laugh and carry on with life is a strong woman.
The woman who seats at an executive meeting and having to swim in the murky waters of patriarchy oozing from her male counterparts without exploding is a strong woman
The woman who defies all odds and makes a decision despite what the society says or feels, and also sticks with that choice by living her life on her terms is a strong woman.
The woman who wets her pillow with tears over the night but still wakes up in the morning to slay to work and to the world is a strong woman.
The woman who raises her child(ren) alone without the contribution or support of the father is a strong woman.
The woman who sees only herself as her own competition is a strong woman.
The woman who picks up despite any failure and tries again is a strong woman.
The woman who faces her fear, and tells it to go to hell while she charges on is a strong woman.
The woman who raises her head high and remains focused despite every effort to bring her down is a strong woman.
The woman who lifts and promotes other women is a strong woman.
The woman reading this is a strong woman.
Share this with every woman you know, so she can see that she is doing well, and be encouraged.
Merry Christmas and Happy New Year in Advance.
Have you heard about my three powerful books that would change your perspective about Motherhood, Separation, Divorce and the children caught in between? How about my last book Life on the street of Readlooks which would also change your perspective about the social media? Please click on the links below to check them out and get your copy. Please do not forget to drop your reviews either on my Facebook page or on amazon after reading.
Thank you.
2811total visits,3visits today