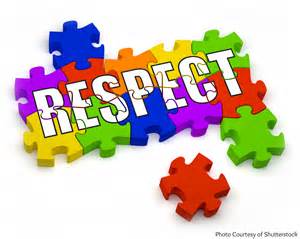 The other day one of my sisters and I were having a discussion and we were talking about how people made us felt ashamed  when we address them respectfully.  I mean, you would try to be courteous  to a person and they would immediately set you straight on how you shouldn't call them sister or brother, how it makes them feel old and archaic, that's even understandable, the one that baffles me most is when some people allude your courtesy towards them and people in general as been sanctimonious and being a two goody shoes. They go as far as saying you are only being two faced and fake.
The funniest one are the people who would make you feel ashamed for being respectful and courteous, they say you are a chronic ara oko ( bush person) for daring to be that respectful "my mouth cannot still close on this one o"  ( mouth still agape ).
And the sad part is that this attitude of some of this people that don't want you to address them respectfully and speak to them with courtesy has began to rub off on everyone. You go to the social media and you see a young man or lady address a grandfather or grandmother by their first name (that doesn't even matter,first name basis is very fine with some or most people)  and the tone of the message would be devoid of any form of courtesy or respect, I hang my head in shame when I see this.
I get tongue tied to even call someone younger than me whom I am just meeting by his or her name without adding sis or bro, is it because I am introverted?
I have shyed away from friendships because I do not know how to address them blatantly with their names on our first meeting.  And the good part is this attitude has bailed me out of assuming people's age.
The other day I assumed one of my sis/friend was 25, only for me to find out I was just a few months older than her, thank God I was being respectful when we chatted for the first time "that's how I would have been forming seniority on top big stature that doesn't open door "  LOL ( being blatant because of my big stature) I would have felt so ashamed of myself.
All in all, we understand that you care less about people addressing you with courtesy  and it doesn't make you a bad person at all, infact we love you for being savvy and sassy "yinmun" (nose tilted)  but on behalf of some of us that are not that blatant, please allow us maintain our respectful mode in our relationship with you and others, when you hear or see that respectful tone in our conversations and writings, either we chose to call you "einty, aunti, anti, ayinti, (aunt) or bros or broda (brother) we are not trying to define how you should address or relate with us, it's just whom we are, please embrace us like that rather than belittle us directly or subtly.
Thank you for your understanding, oya collect hugs and kisses (take some kisses and hugs).
Have a lovely Easter holiday.
images culled from 54disney reviews.com and pictures88.com respectively.
2906total visits,2visits today